Es Mercadal Holidays
Es Mercadal Holiday Deals
| Date | All Inclusive | Half Board | Self Cat. | Full Board | B&B | Room Only |
| --- | --- | --- | --- | --- | --- | --- |
| Nov 2023 | - | - | - | - | - | - |
| Dec 2023 | - | - | - | - | - | - |
| Jan 2024 | - | - | - | - | - | - |
| Feb 2024 | - | - | - | - | - | - |
| Mar 2024 | - | - | - | - | - | - |
| Apr 2024 | - | - | - | - | - | - |
| May 2024 | - | €815 | €640 | - | €711 | - |
| Jun 2024 | - | €608 | €645 | - | €534 | - |
| Jul 2024 | - | - | - | - | - | - |
| Aug 2024 | - | - | - | - | - | - |
| Sep 2024 | - | - | - | - | - | - |
| Oct 2024 | - | - | - | - | - | - |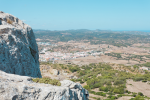 Holidays to Es Mercadal take you to the centre of Menorca between Cuidadella and Mahon. Being inland, it is not the most popular of resorts, but it makes and excellent base for ramblers and those wishing to avoid crowded beaches. Es Mercadal holidays can be taken from April until late October with temperatures rising from twenty to the low thirties at the height of the season. Unlike purpose-built tourist centres, holidays in Es Mercadal enjoy a very traditional island atmosphere. People come from all over the island on market days and also to visit the monastery on the top of Mount Toro. Even if you aren't religious, the spectacular, panoramic view from the top is worth the visit.
Cheap Holidays To Es Mercadal
We have a number of cheap Es Mercadal holidays waiting to transport you to this atmospheric town. With good accommodation and restaurants catering for all tastes, our low cost Es Mercadal holidays are considered great value. If you wish to combine lazy days on the beach with walking in the area, car hire is recommended.
For further information and to discover our best Es Mercadal holiday deals, please use the search facility.