Cala En Porter Holidays
Cala En Porter Holiday Deals
Sorry, we have no offers to display for this destination.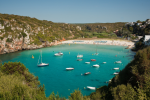 Cala n Porter holidays take you to the south coast of Menorca to a purpose-built resort that offers great amenities. With a sandy, sheltered beach, it is a small tourist centre that offers peace and relaxation, ideal for families and couples of all ages. To be fair, the island itself exudes a laid back atmosphere and many resorts could be described thus.
Compact with everything you need.
The added attraction of a cheap Cala n Porter holiday is its small size. Although small, it has a plentiful supply of shops and restaurants. Being close to the capital Mahon, if more are needed they are only a bus ride away. The markets in the town are worth a visit if you are looking for holiday gifts and souvenirs. What it doesn't have are night clubs as evenings are almost as relaxed as the days.
Hotels and apartments provide accommodation that caters for all budgets.
Standards of comfort are high and you'll receive a warm and friendly service. Restaurants cater for all tastes. Fish is a prominent feature on menus and is great value. If fish doesn't appeal, don't worry as there is everything from fast foods to international cuisine. Wines are pleasantly tasty as well as being cheap.
So, if you are looking for a guarantee of sunshine in a pretty location with a good sandy beach, a Cala n Porter holiday may be the answer. There is one drawback that needs mentioning. Whilst you may enjoy the beautiful vistas from the hotel at the top of the cliff, it means that access to the beach below is via a steep winding road or rather a lot of stairs. There is a road train but if used daily it would not be a cheap option.
Search for cheap holidays today.
If a Cala n Porter holiday appeals but you find the task of trawling through web page after web page looking for the best deal more than a little off-putting, try our simple search facility. You'll find over three dozen travel companies, including leading brands, competing for your custom. It is simple to use, and remember, competition brings out the best bargains. Our search facility enables you to see, at a glance, the Cala n Porter holiday that is the cheapest, and the one that offers the best value for money. It couldn't be easier.
All you have to do to secure the holiday is make a phone call.
As offers change daily, in order to avoid disappointment, you should ring today.