Faliraki Holidays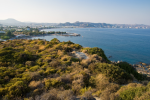 Faliraki, a resort on the north east of Rhodes, is famous for its rousing nightlife. It is a very popular destination for young singles who want to rest on the beach by day and party through the night. Rhodes is one of the favourite Greek Islands with hordes of British tourists arriving each year.
Located in the Aegean, very close to Turkey, it enjoys great weather with hot summers, very comfortable springs and autumns followed by mild winters.
Fly to Rhodes from your regional airport.
Low Cost airlines fly from many regional airports to the island so travel there has never been cheaper. The holiday season is long and extends from March until November with temperatures rising from the low twenties to the low thirties in the height of summer.
If you are seeking a guarantee of hot weather, a sandy beach with plenty of activities both in and out of the water, and plenty of exciting dusk to dawn venues, a cheap Faliraki holiday sounds tailor made for you.
The beach of soft sand is said to be the best on the island which is why those with young children also choose the resort.
The more peaceful parts of Faliraki are towards the south and here families can retreat from the excesses of the centre.
Hotels and apartments provide good quality accommodation and service is excellent. The many restaurants, bars and tavernas provide for every taste. The more conservative palate can even forget they are in Greece and eat their regular diet. This is a shame as they are missing out on delicious, traditional fare. Although the resort has sufficient shops for most needs, the dedicated shopper will need to take the bus to Rhodes Town where they'll find boutiques, jewellers and craft shops that should more than satisfy.
Compare cheap holidays to Faliraki.
If you fancy a cheap Faliraki holiday but resent the time needed to trawl through web page after web page in an attempt to find the best deal, try our simple search facility.
You'll find over three dozen travel companies competing for your custom.
It is simple to use and remember, competition brings out the best bargains. Our search facility enables you to see, at a glance, the Faliraki holiday that is the cheapest and the one that offers you the best value for money.� All you have to do to secure the holiday is make a phone call. To book the best deal, and to avoid disappointment,� ring today.