Lindos Holidays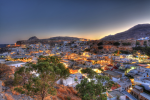 Lindos holidays take you to one of the prettiest towns on the island. Located on the east coast of Rhodes, Lindos lies on a bay sheltered by surrounding hills. From its position on top of a hill, an ancient acropolis dominates the town. Holidays to Lindos can be taken from early spring until late autumn when temperatures rise from twenty to thirty in high season. Owing to its sheltered position, it is the hottest spot on the island. Holidays in Lindos have wide appeal. The sand and shingle beach is gently lapped by crystal clear waves providing safe bathing for children and a variety of water sports are available. This charming traffic-free town with its eclectic architecture, has a maze of cobbled streets filled with craft and souvenir shops, as well as pavement cafes, bars and tavernas. Nightlife is fairly lively with clubs partying through the night, but because of noise restrictions it can not be compared to the likes of Faliraki.
Cheap Holidays to Lindos
We have a good selection of cheap Lindos holidays ready to fly you to this popular spot. Since bargains such as these disappear like hot cakes, those interested should book without delay.
For further information and to discover our latest Lindos holiday offers, please use the search facility.