Rhodes Town Holidays
Rhodes Town Holiday Deals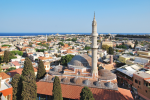 Rhodes Town holidays take you to the northern tip of the island. Since the majority of visitors to the island visit the medieval citadel, why not make it your base? It has beaches with water sports, peaceful parks and squares, and a warren of narrow cobbled streets behind the town walls. Holidays to Rhodes Town can be taken from early spring until late autumn with temperatures ranging from twenty to thirty degrees. The pleasant warmth of early and late season are ideal for sightseeing.
Cheap holidays to Rhodes Town
We have a surprising number of cheap Rhodes Town holidays with good accommodation providing all modern amenities. These are considered great value. Holidays in Rhodes Town have wide popularity from families to couples of all ages, and to groups of young adults. There are shops galore, restaurants and tavernas serving a diverse cuisine and a fairly lively nightlife with discos and clubs. If you wish for a guarantee of summer sun in the oldest inhabited European walled town, you may be tempted by our latest Rhodes Town holiday offers.
For further details and to discover our last minute Rhodes Town holiday deals, please use the search facility.