Kremasti Holidays
Kremasti Holiday Deals
| Date | All Inclusive | Half Board | Self Cat. | Full Board | B&B | Room Only |
| --- | --- | --- | --- | --- | --- | --- |
| Dec 2023 | - | - | - | - | - | - |
| Jan 2024 | - | - | - | - | - | - |
| Feb 2024 | - | - | - | - | - | - |
| Mar 2024 | - | - | - | - | - | - |
| Apr 2024 | - | €322 | €225 | - | €269 | - |
| May 2024 | - | €433 | €375 | - | €398 | €438 |
| Jun 2024 | - | €465 | €378 | - | €409 | €496 |
| Jul 2024 | - | €482 | €419 | - | €450 | €524 |
| Aug 2024 | - | €447 | €400 | - | €423 | - |
| Sep 2024 | - | - | - | - | - | - |
| Oct 2024 | - | - | - | - | - | - |
| Nov 2024 | - | - | - | - | - | - |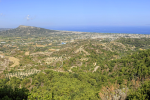 Kremasti holidays take you to a fishing village, very close to Rhodes Town on the north of the island. The resort is a tranquil, traditional fishing village that remains largely untouched by tourist development. Holidays to Kremasti can be taken from early spring until late autumn when temperatures rise from twenty to thirty at the season's height. We have a surprising number of cheap Kremasti holidays offering superb value. If you are looking for a spot away from crowds yet close to the island's medieval citadel, book one of our Kremasti holiday bargains and you won't be disappointed.
Cheap holidays to Kremasti
Holidays in Kremasti attract families and older couples seeking a guarantee of sunshine in a peaceful resort where the warmth of the sun is matched by the welcoming hospitality of locals. Its shingle beach slopes gently into crystal waters offering safe bathing and there are no water sports to disturb the peace. Nightlife is very low key. Shopping is limited but this matters little as Rhodes Town is almost on your doorstep. If you find this appealing, take a look at our latest Kremasti holiday offers and you could soon be relaxing in this delightful resort.
For further information and to discover our latest Kremasti holiday bargains, please use the search facility.