Tholos Holidays
Tholos Holiday Deals
Sorry, we have no offers to display for this destination.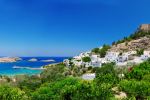 Tholos holidays take you to the stunning north west coast of Rhodes, twenty kilometres from Rhodes Town. It is a relaxed resort that manages to retain its traditional island atmosphere. Holidays to Tholos can be taken from March to November with temperatures rising from twenty to thirty in high season. The north west enjoys a constant breeze which tempers the summer heat and gives ideal conditions for surfing, kite surfing and sailing. The shingle beach shelves gently into clear Mediterranean waters providing safe conditions for children and less confident swimmers.
Cheap holidays to Tholos
Holidays in Tholos are the perfect choice for those wishing to relax in idyllic surroundings away from the crowded beaches of more popular resorts. We have a good number of cheap Tholos holidays that are sure to please. Tholos old town is a charming place with old shuttered buildings and balconies and window boxes laden with flowers, and the sympathetic design of the new holiday developments blend with the old. It you are seeking old world allure, check out our low cost Tholos holidays and you are sure to find one to suit.
For further information and to find our latest Tholos holiday offers, please use the search facility.