Rhodes Holidays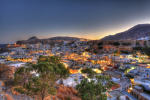 Rhodes has the most visitors of any Greek Island and it is easy to see why. Lying in the Aegean, only eleven miles from Turkey, it enjoys a wonderful climate. Holidays to Rhodes guarantee summer sunshine, glorious beaches and crystal clear water. There are resorts to suit all tastes from traditional Lardos where relaxation is the order of the day, to Faliraki which has a well deserved reputation as the island's party capital.
Cheap Rhodes Holidays
You will find a resort that suits your tastes and interests among our cheap Rhodes holidays. If soaking up the sun on golden sands is your idea of holiday bliss, or trying your hand at energetic water sports, or taking in a little culture exploring the old towns and archaeological remains, then we have last minute Rhodes holidays that will satisfy your wishes.
Fedup with our inclement weather and want to go to where the sun really does shine Holidays in Rhodes are the answer. Treat yourself to a bargain Rhodes holiday by search now.