Ixia Holidays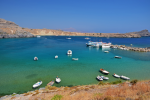 Ixia holidays take you to a purpose built resort only five kilometres from Rhodes Town. It is noted for the quality of its accommodation and its wide ranging leisure pursuits. Holidays to Ixia can be taken form March until late autumn with temperatures rising from twenty to thirty in high season. We have a number of cheap Ixia holidays which are considered to be great value as our commitment to quality and service is never compromised.
Cheap Holidays to Ixia
If you are seeking a relaxing break by the sea with a guarantee of summer sun and water sports that include surfing jet skiing and paragliding, and a price that won't break the bank, take a look at our Ixia holiday deals. Being so close to Rhodes Town, holidays in Ixia appeal to those wishing to combine a little culture or retail therapy with relaxing days by the sea. With good accommodation, restaurants and tavernas serving traditional and international cuisine, our Ixia holiday offers are very popular.
For our latest Ixia holiday bargains, please use the search facility.