Campello Holidays
Campello Holiday Deals
| Date | All Inclusive | Half Board | Self Cat. | Full Board | B&B | Room Only |
| --- | --- | --- | --- | --- | --- | --- |
| Nov 2023 | - | - | €398 | - | - | - |
| Dec 2023 | - | - | €304 | - | €850 | - |
| Jan 2024 | - | - | €312 | - | - | - |
| Feb 2024 | - | - | €312 | - | - | - |
| Mar 2024 | - | - | €333 | - | - | - |
| Apr 2024 | - | - | - | - | - | - |
| May 2024 | - | - | - | - | - | - |
| Jun 2024 | - | - | - | - | - | - |
| Jul 2024 | - | - | - | - | - | - |
| Aug 2024 | - | - | - | - | - | - |
| Sep 2024 | - | - | - | - | - | - |
| Oct 2024 | - | - | - | - | - | - |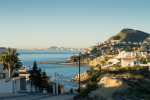 Campello holidays take you to a charming resort on the Costa Blanca, between Benidorm and Alicante. Whilst holidays to Campello can be taken at any time of year, the summers are long and hot and the winters mild, the most popular time to visit is between April and October when temperatures rise from twenty-five to the low thirties. Campello's palm studded sandy beach is gently lapped by warm Mediterranean waters, so it comes as no surprise that holidays in Campello bring families in their thousands. Couples of all ages enjoy a break here.
Cheap Holidays To Campello
We have a number of cheap Campello holidays that may interest those seeking a guarantee of sunshine in a family friendly resort. Being sandwiched between two large towns, visitors here benefit from extra amenities and there are many activities offering fun for all the family. Our low cost Campello holidays can be as active or as relaxed as you wish, the choice is yours. Those with energy to spare can participate in water sports, play golf, have fun in the theme park or water park, or merely sightsee. With good accommodation, restaurants catering for all tastes and shops and markets for essentials, gifts and souvenirs, our Campello holiday offers are sure to please.
For further information and to view our best Campello holiday deals, please use the search facility.