Orihuela Holidays
Orihuela Holiday Deals
| Date | All Inclusive | Half Board | Self Cat. | Full Board | B&B | Room Only |
| --- | --- | --- | --- | --- | --- | --- |
| Nov 2023 | - | €623 | - | - | - | - |
| Dec 2023 | - | €337 | - | - | €418 | - |
| Jan 2024 | - | €321 | - | - | €385 | - |
| Feb 2024 | - | €337 | - | - | - | - |
| Mar 2024 | - | €445 | - | - | €437 | - |
| Apr 2024 | - | €506 | - | - | €362 | - |
| May 2024 | - | €465 | - | - | €365 | - |
| Jun 2024 | - | €459 | - | - | €375 | - |
| Jul 2024 | - | - | - | - | - | - |
| Aug 2024 | - | - | - | - | - | - |
| Sep 2024 | - | - | - | - | - | - |
| Oct 2024 | - | - | - | - | - | - |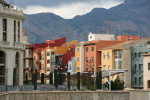 Orihuela holidays take to a town, a few miles from the coast, on the Costa Blanca. The region of Orihuela has many fine beaches and visitors often come to the town in order to combine a little cultural sightseeing with days by the sea. Holidays to Orihuela can be taken at any time of year as the summers are long and hot and the winters mild. The most popular time to visit is from April to October with temperatures rising into the thirties at the height of the season. Holidays in Orihuela appeal mainly to couples, golfers and to those who enjoy city breaks.
Cheap Holidays To Orihuela
We have a number of cheap Orihuela holidays that you may find tempting. They are considered great value our commitment to quality and service are never compromised. The town has some stunning architecture, ancient monuments, pretty parks and gardens which offer hours of pleasure. With beaches close by, visitors can have the best of both worlds, a base in a charming town yet close to the cooling breezes of the coast. Accommodation is good and restaurants cater for all tastes. Nightlife here is fairly relaxed and shopping is more than adequate. If you are seeking a guarantee of summer sun in a charming town in the Costa Blanca, our low cost Orihuela holidays may be just the ticket.
For further information and to discover our latest and best Orihuela holiday deals, please use the search facility.