Santa Pola Holidays
Santa Pola Holiday Deals
| Date | All Inclusive | Half Board | Self Cat. | Full Board | B&B | Room Only |
| --- | --- | --- | --- | --- | --- | --- |
| Nov 2023 | - | €495 | - | - | €410 | - |
| Dec 2023 | - | €347 | - | - | €266 | - |
| Jan 2024 | - | €331 | - | - | €258 | - |
| Feb 2024 | - | €400 | - | - | €260 | - |
| Mar 2024 | - | €545 | - | - | €418 | - |
| Apr 2024 | - | - | - | - | €335 | - |
| May 2024 | - | €541 | - | - | €362 | - |
| Jun 2024 | - | €440 | - | - | €367 | - |
| Jul 2024 | - | - | - | - | - | - |
| Aug 2024 | - | - | - | - | - | - |
| Sep 2024 | - | - | - | - | - | - |
| Oct 2024 | - | - | - | - | - | - |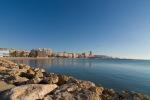 Santa Pola holidays transport you to the gloriously sunny Costa Blanca. Located south of Alicante, Santa Pola is an historic town with Roman remains and medieval structures. Holidays to Santa Pola can be enjoyed at any time of year as the summers are long and hot and the winters mild. April to October are the busiest times when temperatures rise from mid-twenties to low thirties at the height of the season.
Cheap Holidays To Santa Pola
Since the resort has a choice of no fewer than six sandy beaches, it in unsurprising that our cheap Santa Pola holidays are snapped up by families with young children. However, it is also true that holidays in Santa Pola appeal to every age group as the resort appears to have something for everyone. You can choose from the many recreational activities which include a wide variety of water sports as well as golf, tennis, cycling, horse riding, walking and sightseeing. Our low cost Santa Pola holidays can be as relaxed or as active as you wish. With good accommodation and restaurants catering for all tastes, our bargain Santa Pola holidays are sure to please. Shopping is more than adequate but if more choice is needed, Alicante can be easily reached by bus. Nightlife, though not over exuberant, is fairly lively and will satisfy most party seekers. So if you are looking for a pleasant resort with a guarantee of summer sun and good beaches, you may be tempted by our Santa Pola holiday offers.
For further information, and to discover our best Santa Pola holiday deals, please use the search facility.