Costa Blanca Holidays
Costa Blanca Holiday Deals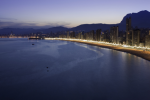 Within its two hundred kilometres of Mediterranean coastline, Costa Blanca has many contrasting resorts. Holidays in Costa Blanca offer relaxed seaside villages with gently sloping beaches, ideal for families and couples, as well as red hot night spots attracting hordes of young adults, with a host of resorts between the two extremes. We have an excellent selection of cheap Costa Blanca holidays to suit your needs.
Cheap Costa Blanca Holidays
Holidays to Costa Blanca can be enjoyed by children and adults alike. Among its leisure pursuits, there are theme parks and water parks, golf courses and go-karting tracks, horse riding and cycling, to name but a few. Book our Bargain Costa Blanca holidays and you'll soon be sporting a tan, bathing in crystal clear waters and enjoying tapas and wine in waterfront taverns. Last minute Costa Blanca holidays can be as relaxed or as energetic as you wish.
Avoid disappointment and check out our Costa Blanca holiday offers using our search facility.