Javea Holidays
Javea Holiday Deals
| Date | All Inclusive | Half Board | Self Cat. | Full Board | B&B | Room Only |
| --- | --- | --- | --- | --- | --- | --- |
| Nov 2023 | - | - | - | - | €398 | - |
| Dec 2023 | - | - | - | - | €254 | - |
| Jan 2024 | - | - | - | - | - | - |
| Feb 2024 | - | - | - | - | - | - |
| Mar 2024 | - | - | - | - | - | - |
| Apr 2024 | - | - | - | - | - | - |
| May 2024 | - | - | - | - | - | - |
| Jun 2024 | - | - | - | - | - | - |
| Jul 2024 | - | - | - | - | - | - |
| Aug 2024 | - | - | - | - | - | - |
| Sep 2024 | - | - | - | - | - | - |
| Oct 2024 | - | - | - | - | - | - |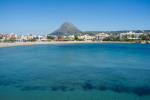 Javea holidays take you to an area of great scenic beauty, close to Denia, on the Costa Blanca. It is a resort with a long history that has held on to its traditional Spanish charm. Although the summer months are the most popular time to visit, when temperatures rise to the low thirties, holidays to Javea can be taken at any time of year as the winters are very mild.
Cheap Holidays To Javea
With soft sand shelving gently into crystal clear Mediterranean waters, it is no surprise that our cheap Javea holidays are a favourite with families. They offer incredible value as our commitment to quality and service is never compromised. With good accommodation and restaurants serving a wide variety of menu that satisfies all tastes, our low cost Javea holidays are sure to please. The resort has a large marina and a number of water sports are offered. Golfers will be pleased with the choice of courses in the area and there is a selection of other land based activities. Our bargain Javea holidays can be as relaxed or as active as you wish as the resort caters for all levels of energy. Javea shopping is good and provides for all your holiday needs and if you book one of our Javea holiday offers, you'll have euros to spare for gifts and souvenirs. If you are looking for a guarantee of sunshine in pleasant surroundings, one of our Javea holiday deals may be just the ticket.
For further details and to view our last minute Javea holidays, please use the search facility.