Playa De Gandia Holidays
Playa De Gandia Holiday Deals
Sorry, we have no offers to display for this destination.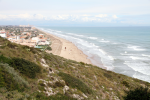 Playa de Gandia holidays transport you to a large resort on Spain's sunny Costa Blanca. It is located� fairly close to Denia and being only forty miles from Valencia, is within easy sightseeing distance of this wonderful city. Holidays to Playa de Gandia can be enjoyed at any time of year as the summers are long and hot and the winters mild. The busiest months are from April until October with temperatures rising from mid-twenties to the low thirties at the height of the season. Stretching round a wide bay, the resorts greatest asset is its fourteen miles of sandy beach.
Cheap Holidays To Playa De Gandia
It is no surprise therefore, that our cheap Playa de Gandia holidays are snapped up by families. Parts of the beach offer great conditions for water sports including surfing and wind powered activities. Holidays in Playa de Gandia have wide appeal as there is so much to see and do. The vibrant nightlife, with its lively bars and discos appeals to young singles who like to party into the night. With good accommodation and restaurants catering for all tastes, our low cost Playa de Gandia holidays are sure to please. The area around the resort can be toured on cycles or on foot as there are many coastal and inland trails. Since our bargain Playa de Gandia holidays disappear like hotcakes, you are advised to book early in order to avoid disappointment.
For further details, and to view our best Playa de Gandia holiday deals, please use the search facility.