Playa San Juan Holidays
Playa San Juan Holiday Deals
| Date | All Inclusive | Half Board | Self Cat. | Full Board | B&B | Room Only |
| --- | --- | --- | --- | --- | --- | --- |
| Nov 2023 | - | - | - | - | - | - |
| Dec 2023 | - | - | - | - | €550 | - |
| Jan 2024 | - | - | - | - | - | - |
| Feb 2024 | - | - | - | - | - | - |
| Mar 2024 | - | - | - | - | - | - |
| Apr 2024 | - | - | - | - | - | - |
| May 2024 | - | - | - | - | - | - |
| Jun 2024 | - | - | - | - | - | - |
| Jul 2024 | - | - | - | - | - | - |
| Aug 2024 | - | - | - | - | - | - |
| Sep 2024 | - | - | - | - | - | - |
| Oct 2024 | - | - | - | - | - | - |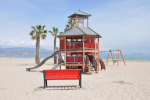 Playa San Juan holidays take you to a purpose built resort close to the old town of San Juan on Spain's sunny Costa Blanca. Holidays to Playa San Juan can be taken at any time of year as the summers are long and hot and the winters mild. The most popular time to visit is between April and October with temperatures rising from mid-twenties to low thirties at the height of the season. With three miles of soft, sandy beaches, it is no surprise that holidays in Playa San Juan appeal to families, particularly those with young children. The warm, crystal clear Mediterranean waters provide safe bathing for non-swimmers. The more energetic visitor has a choice of water sporting and land based activities which include golf.
Cheap Holidays To Playa San Juan
Our cheap Playa San Juan holidays offer great value as our commitment to quality and service never falters. Accommodation is good and the numerous restaurants cater for all tastes so our low cost Playa San Juan holidays are sure to please. Shops provide for all your holidays needs as well as gifts and souvenirs. The old town has some delightful craft and gift stores in its narrow streets as well as an impressive array of historic architecture. There are a number of lively bars along the shore but on the whole, nightlife here is fairly low key. If you are seeking a retreat by the sea with a guarantee of hot weather, you may find our Playa San Juan holiday offers enticing.
For further information and to view our best Playa San Juan holiday deals, please use the search facility.