Denia Holidays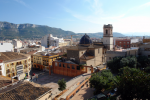 Denia holidays take you to the sunny shores of the Costa Blanca, sixty miles north of Alicante. It is a picturesque resort with good amenities. Holidays to Denia can be taken from April until October with temperatures rising from mid twenties to low thirties at the height of the season. The resort has a choice of beaches and sheltered coves from which a variety of water sports are offered.Holidays in Denia have wide appeal with families and couples enjoying the peaceful atmosphere and the beach life.
Cheap Holidays To Denia
We have a number of cheap Denia holidays which may tempt those seeking an escape from inclement weather. These are particularly good value as our commitment to quality and service never falters. With a range of leisure pursuits both in and out of the water, including golf, our low cost Denia holidays are sure to please. Accommodation is good and the many restaurants serve a diverse cuisine that caters for all tastes. Shopping is more than adequate, with plenty of opportunities for purchasing gifts and holiday souvenirs. Although it is a family resort, there are some lively bars and discos to keep young singles entertained. If you are seeking a break by the sea with a guarantee of summer sun, our Denia holiday offers may be just the ticket.
For further details and to discover our best Denia holiday deals, please use the search facility.