Acharavi Holidays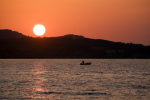 Achavari is a pleasant family holiday resort on the north coast of Corfu, twenty five miles from Corfu Town.
The town is framed by verdant hills leading up to Mount Pandokrator. It lies within a beautiful landscape slightly inland from its long stretch of sand and shingle beach.
Cheap Achavari holidays can be enjoyed from Easter until October. In summer the temperatures rise into the thirties so if you come Corfu to walk in the hills, you may find that the lower temperatures of early and late season are a more comfortable time to visit.
Holidays to Acharavi.
If you are a beach lover wanting a guarantee of summer sunshine and looking for peace and relaxation, a cheap Achavali holiday may be just the ticket. Several roads lead down from the town to the waterfront and the sand and fine shingle beach. Achavari is the perfect destination for those with young children. The shore is gently caressed by warm, clear waters giving ideal conditions for paddling toddlers and less confident swimmers. A number of water sports are available for the more active holidaymaker. The Hydropolis waterpark is near the resort and is a favourite with adults and children alike. A great day out!
Resort to suit all.
Although you may book a cheap Achavari holiday, you'll find that the standard of both accommodation and service are excellent. Tavernas and restaurants cater for all tastes, such is their variety. If you are new to the local cuisine, order meze, the greek equivalent of tapas, and you'll be served a selection of small portions of different dishes. This may then tempt you to order traditional island dishes. Achavari nightlife reflects the family nature of the resort and is almost as relaxed in the evening as it is by day. Shoppers have a good supply of retailers but if more is needed, take a local bus to Corfu Town where you'll be staggered by the choice of goods.
If you've never been to the island before, and you fancy a cheap Achavari holiday but find the thought of trawling through web page after web page looking for the best deal too arduous, try our simple search facility. You'll find over three dozen travel companies, including leading brands, competing for your custom. It is simple to use, and remember, competition brings out the best bargains. Our search facility enables you to see, at a glance, the Achavari holiday that is the cheapest, and the one that offers the best value for money. It couldn't be easier.
All you have to do to secure the holiday is make a phone call.
As offers change daily, in order to avoid disappointment, you should ring today.