Paleokastritsa Holidays
Paleokastritsa Holiday Deals
| Date | All Inclusive | Half Board | Self Cat. | Full Board | B&B | Room Only |
| --- | --- | --- | --- | --- | --- | --- |
| Nov 2023 | - | - | - | - | - | - |
| Dec 2023 | - | - | - | - | - | - |
| Jan 2024 | - | - | - | - | - | - |
| Feb 2024 | - | - | - | - | - | - |
| Mar 2024 | - | - | - | - | - | - |
| Apr 2024 | - | - | €236 | - | - | - |
| May 2024 | €533 | €480 | €276 | - | €426 | - |
| Jun 2024 | €697 | €637 | €361 | - | €577 | - |
| Jul 2024 | €887 | €773 | €392 | - | €678 | - |
| Aug 2024 | €895 | €776 | €302 | - | €660 | - |
| Sep 2024 | - | - | - | - | - | - |
| Oct 2024 | - | - | - | - | - | - |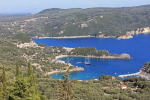 Paleokastritsa holidays have wide appeal. Located on the beautiful west coast of Corfu, holidays in Paleokastritsa can be as relaxing or as active as you wish. With a choice of beaches and a wide variety of leisure activities both in and out of the water, the resort can satisfy most people. Holidays to Paleokastritsa can be take from April to the end of October, with summer, when the temperature rises to the low thirties, being the most popular time to travel.
Cheap Holidays To Paleokastritsa
If you are looking for a guarantee of summer sun amid stunning scenery, you may be tempted by our cheap Paleokastritsa holidays. With good accommodation, restaurants catering for all tastes and nightlife to suit all moods, our Paleokastritsa holiday bargains are bound to please.
For further details and to find our last minute Paleokastritsa holidays, please use the search facility.