Sidari Holidays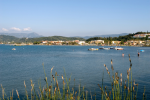 Sidari lies towards the west on the northern coast of Corfu, almost forty kilometres from Corfu Town. Sidari holidays offer long days of sunshine on a choice of sandy beaches and a number of sheltered coves. Appealing to a wide range of interests, holidays in Sidari are popular with families with young children, couples of all ages and even young singles. The Sidari holiday season extends from Easter until October, the most popular time being in the summer when the temperatures rise from the low twenties to the mid thirties.
Cheap Sidari Holidays
We have a number of cheap Sidari holidays that offer excellent value, particularly when travelling with the family. Accommodation is good, restaurants cater for every taste and there are shops for essentials and the usual holiday gifts and souvenirs. Holidays to Sidari offer many recreational activities including water sports, cliff top walks and excursions from the harbour to Paxos and Erikoussa.
For further information and to find our latest Sidari holiday deals, please use the search facility.