Kavos Holidays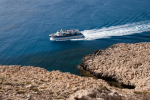 Kavos, located on the southern tip of Corfu, is a very lively resort popular with young singles. Kavos holidays are all about fun with long sandy beaches, a comprehensive range of water sports, and countless bars pubs and discos that pulsate until the early hours of the morning. Holidays to Kavos also attract families looking for sand and safe warm seas for their offspring, as the accommodation on the edge of the resort, towards Aghios Petrus, is more tranquil and suited to family life.
Cheap Kavos Holidays
Our range of cheap Kavos holidays are considered particularly good value for families. Holidays in Kavos can be taken from early spring until late October with temperatures rising from the low twenties to the mid thirties at the height of summer. Low cost Kavos holidays will leave you with money to spare for sightseeing excursions. These include boat trips to explore the beautiful coastline, jeep safaris to traditional villages in the hills, and buses to Corfu Town. Whether you wish to relax in the guarantee of summer sun, or enjoy the thrill of water sports, we will have a Kavos holiday bargain that could make your wish come true.
For further information, to find our last minute Kavos holiday offers, please use the search facility.