Perama Holidays
Perama Holiday Deals
| Date | All Inclusive | Half Board | Self Cat. | Full Board | B&B | Room Only |
| --- | --- | --- | --- | --- | --- | --- |
| Dec 2023 | - | - | - | - | - | - |
| Jan 2024 | - | - | - | - | - | - |
| Feb 2024 | - | - | - | - | - | - |
| Mar 2024 | - | - | - | - | - | - |
| Apr 2024 | - | - | - | - | - | - |
| May 2024 | €350 | €338 | - | - | €318 | - |
| Jun 2024 | €432 | €412 | - | - | €399 | - |
| Jul 2024 | €605 | €426 | - | - | €415 | - |
| Aug 2024 | €504 | €349 | - | - | €337 | - |
| Sep 2024 | - | - | - | - | - | - |
| Oct 2024 | - | - | - | - | - | - |
| Nov 2024 | - | - | - | - | - | - |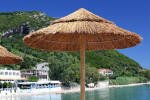 Perama holidays transport you to a pretty resort on the east coast of Corfu, very close to the principle town of the same name. Holidays to Perama can be taken from April until October with temperatures rising to the mid thirties at the height of the season.
Cheap Holidays To Perama
If you are looking for a guarantee of summer sun in a relaxed resort, you may be tempted by our cheap Perama holidays. They are considered great value as our commitment to quality and service is never in doubt. Holidays in Perama appeal to families and couples of all ages. The resort climbs up a fairly steep hill and steps which give access to the beach may cause problems for less mobile visitors. Our low cost Perama holidays are generally relaxed affairs, although there are water sports for more energetic holidaymakers. The shingle beach is fairly small but there are also small coves ideal for snorkelling and diving. Our bargain Perama holidays benefit from the close proximity of Corfu Town. Apart from the historic centre with superb architecture and great shopping, there are restaurants and night spots to suit every mood. Since our Perama holiday offers disappear like hot cakes, it is advisable to book early in order to avoid disappointment.
For further details and to view our best Perama holiday deals, please use the search facility.