St George Holidays
St George Holiday Deals
Sorry, we have no offers to display for this destination.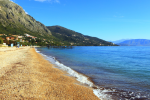 St. George holidays take you to one of the best beaches in Corfu. Lying on the south west coast, twenty miles from the capital, it is a popular resort where days are centred round the beach and the pace of life is slow.
Cheap Holidays To St George
Holidays to St. George can be taken from April until October with temperatures rising from the low twenties to the mid thirties at the height of the season. With sand,� sea and water sports, restaurants and tavernas, bars and discos, holidays in St. George have something for everyone. A nearby lagoon, home to many species of birds and wild flowers, is well worth visiting as is the inland village of Argirades with its Venetian architecture. We are pleased to offer a selection of cheap St. George holidays which you may find tempting as they are such good value, particularly for families. If you a seeking a relaxing break in a warm and friendly atmosphere with a guarantee of sun on your back and sand between your toes, check out our St. George bargain holidays and you may find they are just the ticket.
For further information and to discover our latest St.George holiday offers, please use the search facility.