Roda Holidays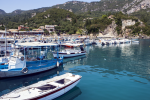 Roda, on Corfu's northern coastline, is a popular resort with British tourists. Roda holidays offer a guarantee of hot summer sun relaxing on a long sandy beach and bathing in warm clear waters. With lots of recreational activities holidays in Roda are popular with a variety of people, but particularly with families and couples. Holidays to Roda can be taken from Easter until the end of October, with temperatures rising from the low twenties to the mid thirties at the height of the season.
Cheap Roda Holidays
If you are looking for a spring break or wish to escape our uncertain summer weather, we have a number of cheap Roda holidays that may be of interest. With good accommodation, numerous restaurants, tavernas, bars and pubs, Roda holidays cater for all tastes. Our low cost Roda holidays and their promise of fun and relaxation, without emptying the piggy bank, can be very tempting.
For further information, and to view our latest Roda holiday offers, please use the Search facility.