Benitses Holidays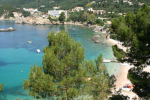 Benitses holidays take you to the beautiful Greek island of Corfu which is in the Ionian Sea to the west of the mainland. Once a hot spot favoured by young singles, this leopard has changed its spots and it is now a peaceful resort favoured by families and couples of all ages.
When is best to travel?
Eight miles south of Corfu Town, Benitses has a working harbour where the sea's harvest is landed daily. With a guarantee of summer sun, a sand and shingle beach, and warm clear water, the popularity of a cheap Benitses holiday is no surprise. The
holiday season lasts from April until October
with the mercury rising into the low thirties at the height of the season.
Hotels, apartments and villas provide a range of good quality accommodation to suit all budgets. Visitors are extended a warm and friendly welcome and the standard of service is high. Restaurants cater for all tastes with their diverse menus. If you visit a fish restaurant in the harbour you'll be in for a treat. Fresh from the morning catch and simply cooked, their fish dishes are delicious. Local wines are pleasant and offer great value. Nightlife is fairly laid back reflecting the resort's popularity with families and couples. Those who wish for a party atmosphere can take a taxi to Corfu Town where they can drink and dance the night away. Benitses shops are adequate but for a real treat,� take the bus to Corfu Town. You should in any case explore the beautiful principle town with its wonderful old quarter.
Search today.
If a Benitses holiday appeals but you find the thought of trawling through web page after web page looking for the best deal more than a little off-putting, try our simple search facility. You'll find over three dozen travel companies, including leading brands, competing for your custom. It is simple to use, and remember, competition brings out the best bargains. Our search facility enables you to see, at a glance, the Benitses holiday that is the cheapest, and the one that offers the best value for money. It couldn't be easier. All you have to do to secure the holiday is make a phone call.
As offers change daily, in order to avoid disappointment, you should ring today.