Corfu Town Holidays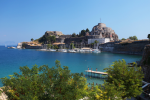 Corfu Town is the principle and charming town on the beautiful island of Corfu. It is an island which, in the past, suffered many invasions evidence of which is seen in its architecture which is mainly Venetian in style. Other occupiers included the French and the British.
On the east of the island, the town lies very close to the airport so transfers are short.
Cheap holidays to Corfu Town.
Cheap Corfu Town holidays are popular with a wide variety of people. Couples of all ages enjoy the beauty of the town with its warren of narrow cobbled streets filled with imposing architecture, masses of shops and delightful squares.
It is the perfect base for those who wish to combine relaxing on a sandy beach with cultural tours, a lively nightlife and an abundance of shopping.
Although there is a small beach in the town and many more fine beaches in the vicinity, families with young children, who wish to be a stone's throw from soft sand, should perhaps find a more suitable resort geared to the needs of the young.
When is best to travel?
Corfu Town holiday season lasts from April until the end of October. At the height of the season, temperatures reach the low thirties. With budget airlines departing from many regional airports, travel to the island has never been more affordable.
Hotels and apartments provide a high standard of both accommodation and service and have tariffs to suit most budgets. With a plethora of restaurants, bistros, taverna�s and fast food outlets, the choice of menu is vast. If you are feeling peckish don't just pop to the most well-known name in the burger business, rather order a souvlaki or the more substantial gyro, basically hot meat and vegetables wrapped in pitta bread. Corfu Town nightlife has venues to suit all from older couples looking for a relaxed spot, to groups of young singles wishing to party into the early hours. The town is a shopper�s delight with hundreds of small shops selling the usual souvenirs as well as many jewellers, windows filled with gold bracelets, necklaces, earrings and rings. The colour of the gold is very yellow and not to everyone's taste.
Search today for a cheap holiday.
If a cheap Corfu Town holiday appeals and you wish to avoid the tiresome task of trawling through web page after web page trying to find the best deal, use our search facility which has almost three dozen travel companies competing for your custom. You'll find it is simple to use and remember, competition brings you the best bargains. Our search facility enables you to see, at a glance, the Corfu Town holiday that is the cheapest and the one that offers the best value for money.
All you have to do to secure the holiday is make a phone call. As offers change daily and to avoid disappointment, ring today.