Glyfada Holidays
Glyfada Holiday Deals
Sorry, we have no offers to display for this destination.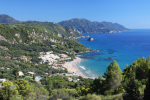 Glyfada holidays take you to the west coast of Corfu renowned for its dramatic scenery with verdant hills surrounding the resort and craggy cliffs towering over the brilliantly blue Ionian Sea. Holidays to Glyfada can be taken from April to October with temperatures rising from the low twenties to mid thirties at the height of the season. With soft golden sand and crystal clear waters offering safe bathing, holidays in Glyfada are popular with families. The peaceful nature of the resort attracts anyone looking for a relaxing stress-free break in the sun.
Cheap Holidays To Glyfada
We have a surprising range of cheap Glyfada holidays which offer great value for money as our commitment to quality and service never wavers. With good accommodation, and restaurants and tavernas serving a variety of cuisine, our low cost Glyfada holidays are sure to please. The more active visitor can enjoy a selection of water sports and there is a golf course in the area. There are also many cliff top walks and inland trails for hikers. If you are looking for a spring break or are seeking a guarantee of summer sun, check out our Glyfada holiday bargains now.
For further information and to find our latest Glyfada holiday offers, please use the search facility.