Brazil Holidays
We currently have no offers to display for Brazil.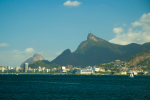 Holidays to Brazil, the fifth largest country in the world have something for everyone. This land of beaches and lakes, rivers and waterfalls, jungle and rain forests, and vibrant cities, has wide appeal.
Cheap Brazil Holidays
While Brazil many be an exotic destination, we have a range of cheap Brazil holidays that come without an exotic price tag. Holidays in Brazil offer thousands of miles of soft sands, among them, the world famous beaches of Copacabana and Ipanema. As well as relaxing beaches, holidays in Brazil offer adventure inland with trips to the rain forest, the Amazon and the fantastic Iguazu Falls. This beautiful country is enhanced by its friendly, welcoming people who ensure that Brazil holidays offer good service. So, if you desire the excitement of some of the most lively cities in the world, or inland adventure, or simply relaxation on stunning beaches, check out our low cost Brazil holidays and your dreams may soon become reality.
Search now to find our last minute Brazil holidays.