Maldives Holidays
Maldives Holiday Deals
Sorry, we have no offers to display for this destination.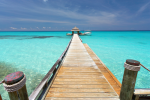 Maldives holidays take you on a long haul journey to an archipelago of over a thousand islands which lies off the coast of India. From the air, the islands are splashes of green, edged in silvery white and surrounded by turquoise and then deep blue waters. With gently swaying palms lining� virgin sands which glisten in the sunshine, the Maldives are the epitome of everyone's tropical island hideaway.
Deals to the Maldivies
So if you are looking for a taste of paradise, where� you can relax in the lap of luxury and forget the pressures of twenty-first century living, use our search facility which will direct you to the holiday company that offers you the best value for money. Cheap Maldives holidays are available and we will help you find them. If you wish for a more active holiday and enjoy water based activities, you'll be delighted by the range of water sports. Snorkelling and scuba diving among the coral reefs is a very rewarding experience as there is an abundance of colourful species of all shapes and sizes. The months of June to September offer perfect conditions for surfers when waves can be eight feet high. Other sports include water skiing, kite surfing, parasailing and fishing, to name but a few.
Maldives holidays are popular with honeymoon couples as the allure of an empty shore and the gentle sound of waves, the swaying fronds of the palms and cocktails on the beach, is too strong to resist.
When to visit the Maldivies?
While cheap Maldives holidays can be taken at any time of year, the islands have two distinct seasons. The dry season is from November to April and the rainy season from May to October. Temperatures remain high throughout the year but the monsoon season can give rise to tropical storms and cyclones. If you are prepared to risk the rainy season, prices are considerably cheaper.
If you are seeking an exotic break, but don't want it to cost an arm and a leg, let our price comparison site steer you towards your cheap Maldives holiday. Searches are user-friendly and will direct you to the company giving you the best value. Your dream Maldives holiday is just a phone call away.