Cape Verde Holidays
Cape Verde Holiday Deals
Sorry, we have no offers to display for this destination.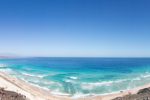 Cheap Cape Verde holidays transport you to an idyllic archipelago in the Atlantic Ocean, five hundred miles from Senegal on the west coast of Africa.
There are ten islands of varying sizes and each has its own charm and character. Originally a Portuguese colony, Cape Verde, with its population of half� a million, gained independence in 1975. Although the islands have few natural resources, what they do have in abundance is sunshine and beaches.
With the advent of cheap travel the tourist industry is now an important part of the economy. Hotels have good amenities and offer high levels of comfort and service. Food on the islands is fairly simple Creole fare with soups and stews, vegetables and fruits. The more developed islands and the larger hotels do of course offer international menus.
Flying to Cape Verde
With a flight time of less than six hours from the UK, cheap Cape Verde holidays gain in popularity year by year. The allure of deserted beaches and turquoise seas, the simple life style, the water sports, and the warmth and friendliness of locals, is hard to resist.
The flat, dry island of Sal is a favourite with surfers because of the winds that blow for over half the year. The building of an international airport and hotel complexes add to its attraction for visitors. Santiago, the largest of the islands, also has an international airport. Unlike flat Sal, Santiago has mountains, valleys and plains, as well as wonderful beaches.
Activities in Cape Verde
The island offers a range of activities including, hiking, cycling, fishing and water sports. Whichever island you chose you can not fail to be impressed by the pristine, and sparsely populated� beaches, the clear waters� and the relaxed atmosphere. If you are interested in this beach lover's paradise, use our search facility which will quickly find your dream Cape Verde holiday, and at the cheapest possible price.