Caribbean Holidays
Caribbean Holiday Deals
Sorry, we have no offers to display for this destination.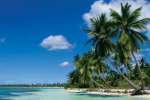 To the east of Central America lies the Caribbean Sea which, apart from Mexico's eastern coast, is home to several thousand islands, many of which are a favoured destination for those seeking an exotic background to a holiday of sun, sand and sea. The islands all have their own distinct identity and charm which reflect their colonial history.
Relax in the Caribbean
While the geographic features of the islands may differ, they all have one thing in common, idyllic palm-fringed beaches washed by the clearest and the bluest of seas. This is the allure of Caribbean holidays that draws hundreds of thousands of visitors to its shores. Tourists belong to every age group as there is so much to see and do. Whether you are looking for a relaxing retreat, a romantic hideaway, sporting and sightseeing activities, a cheap Caribbean holiday will fit the bill. The beauty of the coral reefs around the islands are a great attraction for both divers and snorkellers Whichever island you choose, you'll find first class accommodation, excellent service, good food and night spots to suit every mood. And all at affordable prices!
While Caribbean holidays can be taken at any time of year as temperatures vary little between summer and winter, remember that there is a very good chance of hurricanes between the months of June and September. Winter breaks to the islands are very popular. Cheap Caribbean holidays are the perfect antidote to a miserably long and dreary British winter.
Cheap Caribbean Holidays
Whichever island you choose, be it Bermuda or Barbados, Antigua or Aruba, St. Kitts or St. Lucia, Cuba or Curacao, Dominican Republic or Jamaica, or any other of these sun-drenched isles, you will thoroughly enjoy your Caribbean holiday. Step back in time in Cuba or swim with turtles in Barbados; visit Dunn's River Falls in Jamaica or the historic sites of Bermuda; or just enjoy the unspoiled beaches or the rain forest of tiny Antigua.
If your dream holiday includes sugary soft beaches in pristine condition, warm gentle waters, high class accommodation, friendly locals offering good service and mouthwatering cuisine, rest assured that we will find you the perfect Caribbean holiday at the cheapest price.
Use our search facility at the top of the page, make that call, and you could soon be on your way.