Holidays to Bulgaria
Bulgaria Holiday Deals
Sorry, we have no offers to display for this destination.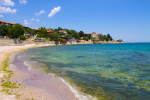 Bulgaria holidays have dramatically improved over the decades. Back in the eighties they were a cheap option for those seeking a guarantee of summer sunshine. During those Iron Curtain days you did indeed get what you paid for. In the present time, Bulgaria remains a cheap European option, but holidays now offer great value for money. The country is vast and with mountain ranges and a long, Black Sea coastline, Bulgaria holidays can be enjoyed in both summer and winter seasons. Skiing there, is considerably cheaper than in European resorts and the facilities are excellent. Cheap Bulgaria holidays have wide appeal as the country has attractions catering for all age groups and interests. Sandy beaches suit those with young families, while water sporting facilities provide exercise for the more active. Sofia, the capital, is an interesting as well as beautiful city, an ideal destination for a day's excursion, or for a city break.
Grab a bargain to Bulgaria.

Several tour operators fly directly to the Black Sea coast from regional airports, while national airlines fly into the capital. Flight time is a little under four hours.
Bulgaria sun-seeking holidays can be taken from late April until early October. Snow comes early to the mountains so the ski season begins towards the end of December and finishes at the end of March. Snow cover is always good higher up the mountain but high winds can sometimes close down the ski lifts. Use our search facility to find the best possible Bulgaria holiday deals.
Bulgaria has a wonderful landscape where stunning mountains contrast with open plains, and historic towns contrast with modern seaside resorts. With over two hundred miles of coastline and a tideless sea that is never rough, you will easily find a cheap Bulgaria holiday that caters for your needs. There is nightlife to accommodate all moods, restaurants to satisfy all palates, and shopping to keep souvenir hunters happy.
Everyone loves a bargain. While it can be said that not all bargains offer value for money, this is certainly not the case when it comes to booking a Cheap Bulgaria Holiday. With a good� quality accommodation, and high standards of cuisine, a cheap bulgaria holiday offers fantastic value.