Malta Holidays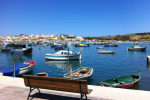 Long hot Mediterranean summers on an island with a rich cultural heritage, where cars drive on the left and English is spoken; where the waters are clear and warm, the landscape beautiful and the people are friendly; if these qualities strike a chord with you then one of our cheap Malta holidays may be just the ticket. This small island is found south of Sicily in the Mediterranean Sea. At less than ten miles wide and thirteen miles long, it is amazing that Malta has so much to offer. Its rich cultural inheritance provides many sightseeing opportunities particularly for those with an interest in history or architecture. That said, the beauty of its buildings can certainly be appreciated by all. Although the island is small and is popular with holidaymakers, the inland terrain is perfect for walkers wishing to escape the hordes of oiled and lotioned sun lovers who hug the coastal resorts. Travelling on foot through stunning scenery, and villages where the passage of time appears to have been arrested, is a truly rewarding experience. Those with young children bearing buckets and spades need to choose their resort carefully as sandy beaches in Malta are in the minority. They are generally found in the north of the island. Mellieha Bay and Golden Bay being two of the most popular.
Why visit Malta.

With flights from many regional airports throughout the season, which lasts from April to November, and with a flight time of a little over three hours, travel to Malta is generally hassle-free. Once on the island, your holiday can be as active or as passive as you wish. With an abundance of water sports including diving, mini-golf, tennis courts, a eighteen hole golf course, bowling, horse riding and cycling, to name but a few of the available activities, you need never have a dull moment. Add to these, the museums, monuments and churches; the shops and the markets; the range of excellent eateries serving a broad range of menus from local to international; the nightlife with wine bars, clubs and concert venues, and you'll see that, regardless of age, our cheap Malta holidays really do have something for everyone. To appreciate the full beauty of towns such as Valletta, take a cruise. At night, when illuminated the effect is magical. The tiny island of Gozo, and the even smaller island of Comino are also worth visiting.
If you are tempted by this wonderful island, use our search facility to find your perfect holiday. You'll find our cheap Malta holidays provide excellent value with good quality accommodation. To avoid disappointment check out our Malta deals today.