Kenya Holidays
Kenya Holiday Deals
Sorry, we have no offers to display for this destination.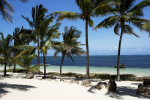 Kenya holidays take to a large country which lies on the equator in East Africa. It is a country with stunning beaches and savannah grasslands that are home to a multitude of wildlife. Both are reasons for the popularity of Kenya holidays and many tourists combine an African safari with lazy days on sandy shores.
What does Kenya have to offer?
Kenya is a beautiful country with mountains and plains, lakes and national parks, and soft sandy shores lapped by the warm waters of the Indian Ocean. Its wildlife is legendary and in the past the animals were at the mercy of the big game hunters. Now the shooting is mainly done by photographers gathered near water holes for great views of the magnificent elephant and lions, hippos and giraffe, zebra and cheetah. If wildlife is your passion then a cheap Kenya holiday will delight. Travel by jeep into the Massai Mara or the Tsavo national parks for a safari of a lifetime. There's nothing better than seeing these majestic animals in their natural habitat. You'll be overawed by the sight of wildebeest if your visit coincides with their annual journey from the Serengeti to the Massai Mara that takes place between July and September. Travelling in their hundreds of thousands, it is a sight and sound you will never forget.
Tourism is the largest contributor to the economy of Kenya so it is unsurprising that every effort is made to make your stay a pleasant one, one that will leave you with many happy memories and the desire to return. Whatever your interests, you can not fail to be impressed by the beauty of the landscape and the splendour of the wildlife. The climate ensures that Kenya holidays can be taken at any time of year and whatever time you choose you will surely see much wildlife. December to March is the birthing season after which the animals move north and west seeking food supplies. Remember that July to September is the wildebeest spectacle.
Holidays in Kenya
The palm-fringed beaches at the coast offer idyllic conditions with soft, pristine sand and clear waters. A variety of water sports are available at the larger resorts. Here you can relax in the knowledge that the sun will shine and enjoy the laid back atmosphere, the comfortable accommodation and the good service. Restaurants serve a wide variety of international food that caters for most palates. Hand crafted souvenirs are on sale everywhere.
Our price comparison site is easy to use and will lead you to the cheap Kenya holiday that offers you the best value for money. Your holiday of a lifetime is only a phone call away.