Holidays to Tunisia
Tunisia Holiday Deals
Sorry, we have no offers to display for this destination.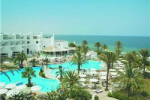 If you are looking for something a little different, a little more exotic yet within easy travelling distance, why not try one of our Cheap Tunisia holidays. On the North African coast, the sun is guaranteed to shine and the beaches are long swathes of soft sand washed by sparkling Mediterranean waters. As well as its splendid coastline with its ultra modern five star hotels, there are many opportunities for sightseeing with ancient remains and monuments. The medinas in the old towns, always a favourite with souvenir hunters, are an absolute warren of incredibly narrow streets overflowing with shops and market stalls. Haggling over the price of goods is a national pastime so do join in.
Have fun in the North African Sun.

Tunisia holidays attract an amazing variety of people, and with year round heat not only are you assured of sun in summer, but you can also escape from the misery of winter weather. Now that many low cost airlines fly from regional airports to Tunisia, getting to the North African coast is easy. The old and the young; families and couples; couch potatoes and sporting enthusiasts can all enjoy one of our cheap Tunisia holidays. Water sports abound and there are golf courses, tennis courts and mini-golf. Quad-biking and sand surfing are popular in the desert, as is camel trekking. Tunisia resorts are mostly purpose-built and have first class amenities including excellent restaurants. If you should tire of the beach, visit the local town and wander through the medina where you'll find an abundance of local crafts. Items carved from olive wood, hand thrown ceramics, jewellery, leather goods and carpets all make popular souvenirs. Remember two things; you have a finite luggage allowance and the cost of excess baggage is prohibitive, and the price on the label is only a starting point as bartering is expected. Since the resorts are developed with Europeans in mind, it is only by visiting the old towns that you will experience the true flavour of the country. When it comes to eating, your Tunisia holiday will certainly please the palate. The combined influences of Mediterranean and North African cuisine offer a delightful mix to stimulate your appetite. Although an Islamic country alcohol is readily available. Drink only bottled water.
If you are interested in a cheap Tunisia holiday, use our search facility to find a resort that best suits your requirements. Since these holidays offer great value, they fly from the shelves. Act now to avoid disappointment.