Holidays to Croatia
Croatia Holiday Deals
Sorry, we have no offers to display for this destination.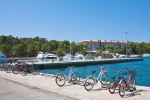 Croatia holidays take you to a country on the Adriatic Sea that is noted for its beauty and its great summer weather. With mountains and tree-lined hills, vast plains and lakes, pebbled beaches and rocky coasts, and with hundreds of small islands scattered off shore, the diversity of the landscape has great appeal. The countryside remains unspoiled and Croatia's historic towns have a fairy-tale ambience, where little appears to have changed over the centuries. Narrow cobbled streets filled with architectural gems as well as pavement cafes, small shops and market stalls, combine to make cheap Croatia holidays desirable. Tourism has in no way detracted from the traditional atmosphere that pervades the resorts. A warm welcome awaits all visitors, with everyone keen to make your stay as memorable as possible, and for all the right reasons. Croatia holidays have a very broad appeal and resorts are filled with all generations. The long Croatian coastline has a great influence on diet. Fish is eaten in quantity, and fresh from the mornings catch you are assured of its freshness. The large number of restaurants with menus offering a wide choice of food satisfies most palates. With a Mediterranean flavour, there is also a great choice of pasta and pizza. Although food can be more expensive than in the UK, beer is cheaper, and Croatian wines are good. Those who enjoy shopping will be delighted by the small shops and markets where they can find their holiday souvenirs. Whether you are a couple seeking a romantic break, a family with children, or a group of young adults looking for a party atmosphere, our search facility will guide you to the Croatia holiday that offers you the best value for money.
Summer Sun in Croatia.

If you are looking for a guarantee of summer sun, look no further than Croatia. It offers long, hot and dry summers and mild winters along the coast. Obviously the winter temperatures in the mountains are low, with good quantities of snow, ideal for a skiing holiday. Early and late season provide a more temperate climate giving ideal conditions for those wishing to explore the old cities. Dubrovnik is a very popular destination for those seeking a city break.
With a flight time of a little under three hours, and with flights, including low-cost airlines, from several regional airports Croatia is easily accessible. If you are tempted by the delights that Croatia holidays offer, use the search facility above and you'll quickly find the deal that offers you the best value for money.