Almunecar Holidays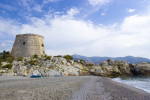 Almunecar holidays take you to the aptly named Costa Tropical, the sunniest spot in Spain having even more hours of sunshine than neighbouring Costa del Sol. Holidays to Almunecar can be taken at any time of year as the summers are long and hot and the winters mild. The busiest months are from April to October with temperatures rising to the mid thirties at the height of the season. Holidays in Almunecar have wide appeal as they satisfy the needs of families, couples and golfers, as well as young singles. Located in an attractive landscape framed by mountains, the resort has ten miles of sandy beaches.
Cheap Holidays To Almunecar
It is no surprise therefore, that our cheap Almunecar holidays are snapped up by families. The warm Mediterranean waters offer safe conditions for children and less confident swimmers. Low cost Almunecar holidays can be as relaxing or as energetic as you wish as they offer many recreational pursuits, both in and out of the water. Golfers have a choice of courses in the area. With good accommodation and restaurants catering for all tastes, our bargain Almunecar holidays are sure to please. They offer great value for money as our commitment to quality and service never wavers. There are many opportunities for sightseeing and the spectacular city of Granada is only thirty miles away. If you are looking for a guarantee of sunshine with plenty of entertainment, you may be interested in our low cost Almunecar holidays. With good shopping and a lively nightlife, they tick all the boxes.
For further information and to discover our best Almunecar holiday deals, please use the search facility.