Sotogrande Holidays
Sotogrande Holiday Deals
Sorry, we have no offers to display for this destination.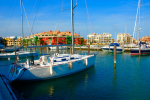 Sotogrande holidays transport you to a superior resort on the Costa del Sol where the comfort and satisfaction of holidaymakers is paramount. Purpose-built around a modern marina, this vast private development has much to offer. Holidays to Sotogrande can be taken at any time of year as the summers are long and hot and the winters mild. The busiest months are from April to October with temperatures reaching the low thirties at the height of the season. During the winter season it is very popular with golfers. Holidays in Sotogrande appeal to families, couples of all ages and, with a choice of three superb courses, they attract many golfers.
Cheap Holidays To Sotogrande
With a soft, sandy beach lapped by warm, clear water, it is no surprise that our cheap Sotogrande holidays are snapped up by families. They offer good value for money as standards of quality and service are never compromised by price. Whilst there are shops in the complex for essentials, many visitors take a ferry to the markets of Morocco where they can haggle for their gifts and souvenirs. If you are looking for more than a touch of luxury together with a guarantee of summer sun, our bargain Sotogrande holidays may be just the ticket.
For further details and to view our best Sotogrande holiday deals, please use the search facility.