Benalmadena Holidays
Benalmadena Holiday Deals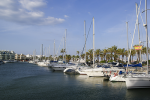 Benalmadena holidays take you to the wonderful beaches of the Costa Del Sol close to Torremolinos. It is a Spanish resort that has wide popularity as all ages groups can enjoy a summer break in this well established, purpose built resort.
There are three parts to Benalmadena.
� The original village, Benalmadena Pueblo is in the hills and set back from the beach; the commercial centre lies between the old village and the coastal resort.
Cheap Benalmadena Holidays.
Cheap Benalmadena holidays can be taken at any time of year as the hot summers are followed by pleasantly mild winters. Transfers are short as the resort is only twenty miles from Malaga airport. With many low cost flights from several regional airports, travel to Benalmadena has never been easier. Hotels and apartments provide high standards of accommodation and the quality of service is excellent. You are assured of a warm welcome where nothing is too much trouble. Restaurants seem geared to the British palate as they offer full English breakfasts, Sunday lunches complete with Yorkshire puddings, along with curries and Chinese cuisine. Be sure to also sample local fare.
Nightlife is fairly lively with music bars and discos, as well as jazz, salsa and night clubs. Tourist attractions include the Tivoli theme park and the Selwo Marina. Excursions to the wonderful city of Granada are very popular.
Cheap Benalmadena holidays possess all the ingredients for a fantastic annual break; sun in abundance, sand as far as the eye can see and lashings of clear warm waters.
Search today.
If a Benalmadena holiday appeals but you find the thought of trawling through web page after web page looking for the best deal more than a little off-putting, try our simple search facility.
You'll find over three dozen travel companies, including leading brands, competing for your custom.
It is simple to use, and remember, competition brings out the best bargains. Our search facility enables you to see, at a glance, the Benalmadena holiday that is the cheapest, and the one that offers the best value for money. It couldn't be easier. All you have to do to secure the holiday is make a phone call. As offers change daily, in order to avoid disappointment, you should ring today.