Marbella Holidays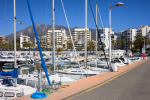 Marbella holidays take you to the aptly named Costa del Sol in southern Spain. It is an upmarket resort with great sandy beaches with safe bathing for children and less confident swimmers. Holidays in Marbella have broad appeal as there is something here for everyone. Families, couples, young singles, water sports enthusiast and golfers can all enjoy holidays to Marbella. Although the most popular time to visit the resort is during the summer months, it can be visited at any time of year, as winters here are very mild. Golfers in particular enjoy out of season breaks.
Cheap Holidays To Marbella
We have a surprising number of cheap Marbella holidays that are great money saving bargains. Accommodation is of a high standard, restaurants serve a diverse cuisine that caters for all tastes, and the shops have to be seen to be believed as the so-called Golden Mile is filled with boutiques and specialist stores. Unless you have plenty of credit on your cards, it may be best to window shop. There are many bars, discos and clubs providing a lively nightlife. If you are seeking a guarantee of summer sun in a charming resort with a wealth of recreational activities, you may be tempted by our Marbella holiday offers. Since last minute Marbella holidays sell quickly, it is best to book early in order to avoid disappointment.
For further information and to discover our best Marbella holiday deals, please use the search facility.