Estepona Holidays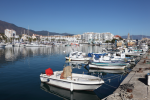 Estepona holidays transport you to the sunny Costa del Sol, west of Marbella, in southern Spain. It has long stretches of sandy beach with good bathing and a wide variety of water sports. Holidays to Estepona can, in truth, be taken at any time of year as the winters here are usually very mild. The summer, of course, remains the most popular time to visit the area. Holidays in Estepona have wide popularity from families to older couples and from golfers to water sports enthusiasts. Many Spaniards holiday here which helps to retain a traditional atmosphere.
Cheap Holidays to Estepona
Our range of cheap Estepona holidays offer great value as our commitment to quality and service never wavers. Accommodation is good and restaurants serve an eclectic menu which caters for even the most conservative of palates. Nightlife here is low-key, although there are some lively bars in the marina. Shops are plentiful and there is a large Sunday market, ideal for gifts and souvenirs. If you are seeking a guarantee of summer sunshine in a fairly traditional resort, you may be interested in one of our low cost Estepona holidays. Since they sell out quickly, it is best to book early in order to avoid disappointment.
For further details and to view our last minute Estepona holiday deals, please use the search facility.