La Vinuela Holidays
La Vinuela Holiday Deals
| Date | All Inclusive | Half Board | Self Cat. | Full Board | B&B | Room Only |
| --- | --- | --- | --- | --- | --- | --- |
| Nov 2023 | - | €916 | - | - | €761 | - |
| Dec 2023 | - | €493 | - | - | €373 | - |
| Jan 2024 | - | - | - | - | - | - |
| Feb 2024 | - | - | - | - | - | - |
| Mar 2024 | - | - | - | - | - | - |
| Apr 2024 | - | - | - | - | - | - |
| May 2024 | - | - | - | - | - | - |
| Jun 2024 | - | - | - | - | - | - |
| Jul 2024 | - | - | - | - | - | - |
| Aug 2024 | - | - | - | - | - | - |
| Sep 2024 | - | - | - | - | - | - |
| Oct 2024 | - | - | - | - | - | - |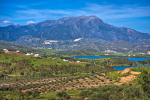 La Vinuela holidays take you to a small inland village close to Nerja on southern Spain's Costa del Sol. It is a peaceful, traditional settlement, very different from the many lively coastal resorts. Lying in the foothills of the Almijara Mountains near a large reservoir, holidays to la Vinuela attract a range of visitors. Couples of all ages come to enjoy the relaxed and friendly atmosphere. It is popular with hill walkers, climbers and golfers. Holidays in La Vinuela can be taken at any time of the year as the area benefits from long hot summers and mild winters. Being close to the coast, holidaymakers can enjoy all that the sea and sand have to offer and then return to their hillside retreat. If you do wish to explore the area, car hire is essential.
Cheap Holidays To La Vinuela
We have a number of cheap La Vinuela holidays that you may find tempting as they are considered to be great value for money. With good accommodation providing all mod cons, excellent restaurants serving traditional� fare and adequate shopping, our low cost La Vinuela holidays are sure to please. If you are looking for a guarantee of sunshine amid stunning scenery, our La Vinuela holiday deals may be just the ticket.
For further details and to find our last minute La Vinuela holiday offers, please use the search facility.