San Pedro De Alcantara Holidays
San Pedro De Alcantara Holiday Deals
Sorry, we have no offers to display for this destination.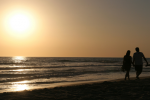 San Pedro de Alcantara holidays take to a charming resort six miles from Marbella on Spain's Costa del Sol. With three miles of soft sandy beach, a choice of golf courses, and many recreational activities our holidays in San Pedro de Alcantara have wide appeal. The beach offers safe waters for less confident swimmers and there are water sports for the more active visitor. Holidays to San Pedro de Alcantara can be taken at any time of year as the summers are long and hot and the winters are mild. The busiest months are from April to October with the mercury rising to the low thirties at the height of the season.
Cheap Holidays To San Pedro De Alcantara
We have a number of cheap San Pedro de Alcantara holidays which offer surprising value. With good accommodation and restaurants catering for all palates, our low cost San Pedro de Alcantara holidays are sure to satisfy. Shopping here is adequate but if more choice is required, Marbella, with its Golden Mile, is only a bus ride away. Nightlife reflects the age and interests of the clientele and is fairly relaxed. Dusk to dawn entertainment can easily be found in the resort's gregarious neighbour, Marbella. Since our bargain San Pedro de Alcantara holidays fly from the shelves, early booking is advised.
For further details and to view our best San Pedro de Alcantara holidays offers, please use the search facility.