Malaga Holidays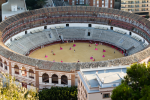 Holidays to Malaga can be taken at any time of year as the summers are hot and the winters mild. Naturally, summer is the most popular season but Malaga holidays are often taken by those wishing to escape from the dreary days of winter. Malaga has had a long history and is now a large, vibrant, modern city with excellent shopping, great restaurants and a very lively nightlife. Holidays in Malaga have wide popularity. There are good sandy beaches close by offering a variety of water sports and there are golf courses in the area. The city offers many sightseeing opportunities, with historic buildings, churches, museums, and beautiful parks.
Cheap Holidays To Malaga
We have a number of cheap Malaga holidays that are considered great value as the standard of accommodation and service is good. If you are looking for a guarantee of sunshine in a vibrant city, you may be interested in our last minute Malaga holidays. These tend to sell out quickly, so book early in order to avoid disappointment. Cheap Malaga city breaks are also worth considering.
For further information and to discover our best Malaga holiday deals, please use the search facility.