Torrox Costa Holidays
Torrox Costa Holiday Deals
Sorry, we have no offers to display for this destination.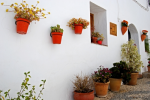 Torrox Costa holidays transport you to a pleasant resort between Nerja and Torre de Mar on the Costa del Sol. Holidays to Torrox Costa can be taken at any time of year as the summers are long and hot and the windows are mild. The busiest months are from April to October with temperatures rising to the low thirties at the height of the season. Holidays in Torrox Costa are very popular with families and couples as this is a peaceful resort by both day and night.
Cheap Holidays To Torrox Costa
With a wonderful sandy beach and warm, clear waters, it is no surprise that our cheap Torrox Costa holidays are snapped up by families. They are considered good value for money as our standards remain high, regardless of price. If you are seeking a family friendly resort where the sun is guaranteed to shine, and the warm sea provides safe bathing, you may be tempted by one of our low cost Torrox Costa holidays. Since bargains such as these disappear like hot cakes, it is best to book early in order to avoid disappointment. The resort has a good number of shops as well as a weekly market. Its many restaurants cater for even the most conservative of palates and although there are one or two lively bars, nightlife is fairly relaxed.
For further information and to view our best Torrox Costa holiday offers, please use the search facility.