Archidona Holidays
Archidona Holiday Deals
Sorry, we have no offers to display for this destination.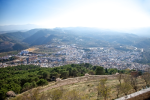 Archidona holidays take you to a pretty Andalucian town thirty miles north of Malaga. Framed by mountains and surrounded by fertile plains and valleys, holidays in Archidona have wide appeal. They are particularly popular with rock climbers and hill walkers. With long hot summers and mild winters, holidays to Archidona can be enjoyed at any time of year. The busiest period is from April to October when temperatures rise to the low thirties.
Cheap Holidays To Archidona
If you are seeking a guarantee of sun in southern Spain but wish to avoid the seaside hordes, you may be tempted by our cheap Archidona holidays. They offer excellent value as our commitment to quality and service is never in doubt. The town has a long history, evidence of which is seen in the architecture of its buildings and its magnificent churches. The remains of the Moorish fortress stands guard above this once-walled town reflecting its turbulent past. If you wish to make the most of your visit, car high is recommended. Archidona holidays make a good base from which to explore the wonderful towns of Granada, Seville and Cordoba and days at the coast are also possible. The lakes in neighbouring El Chorro offer water sports and fishing. As you can see, our Archidona holiday offers can be as relaxed or as active as you wish. The choice is yours. With comfortable accommodation, superb restaurants, shops for essentials and a relaxed nightlife, our bargain Archidona holidays are sure to please.
For further details and to view our last minute Archidona holidays, please use the search facility.