Fuengirola Holidays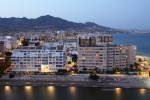 Fuengirola holidays take you to a large resort, close to Malaga, on Spain's aptly named Costa del Sol. Holidays to Fuengirola can be taken at any time of year as the summers are long and hot and the winters are mild. The busiest times are from April until October with temperatures rising from mid twenties to the low thirties at the height of the season. Holidays in Fuengirola have wide appeal as this lively resort has much to offer.
Cheap Holidays To Fuengirola
With five miles of soft sandy beaches, it comes as no surprise that our cheap Fuengirola holidays are snapped up by families. High rise hotels and apartments, stretching as far as the eye can see, provide accommodation to suit all tastes. Our low cost Fuengirola holidays can be as relaxed or as energetic as you wish as the beach and the modern marina provide many opportunities for water sports, and there is a choice of golf courses in the area. There are many other land based leisure pursuits as well as a number of tourist attractions which include a superb zoo, where animals are kept in as natural conditions as possible. With restaurants catering for even the most pernickety of palates and shops to satisfy ardent shoppers, our bargain Fuengirola holidays are sure to please. Although nightlife is lively, there are venues to suit all moods from party to romantic. If you a looking for a vibrant spot with a guarantee of summer sun, our Fuengirola holiday offers may be just the ticket.
For further information and to view our best Fuengirola holiday deals, please use the search facility.