Antequera Holidays
Antequera Holiday Deals
| Date | All Inclusive | Half Board | Self Cat. | Full Board | B&B | Room Only |
| --- | --- | --- | --- | --- | --- | --- |
| Nov 2023 | - | €766 | - | - | €407 | - |
| Dec 2023 | - | €260 | - | - | €208 | - |
| Jan 2024 | - | €262 | - | - | €210 | - |
| Feb 2024 | - | €264 | - | - | €212 | - |
| Mar 2024 | - | €286 | - | - | €234 | - |
| Apr 2024 | - | €320 | - | - | €267 | - |
| May 2024 | - | €364 | - | - | €312 | - |
| Jun 2024 | - | €387 | - | - | €335 | - |
| Jul 2024 | - | - | - | - | - | - |
| Aug 2024 | - | - | - | - | - | - |
| Sep 2024 | - | - | - | - | - | - |
| Oct 2024 | - | - | - | - | - | - |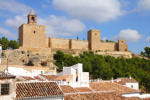 Antequera holidays take you to an Andalucian town with a fascinating history, evidence of which is found in its architecture and in the many archaeological sites in the area. Holidays to Antequera can be taken at any time of year as the summers are long and hot and the winters are mild. The busiest months are between April and October when temperatures rise to the low thirties at the height of the season. Holidays in Antequera are popular with couples of all ages as they appeal to a variety of interests. The surrounding mountains with their unusual rock formations attract many rock climbers as well as hill walkers. The lakes in neighbouring El Chorro offer water sports and fishing.
Cheap Holidays To Antequera
Our cheap Antequera holidays are considered excellent value as our commitment to quality and service never wavers. As there is much to see and do in the area, car hire is recommended. Must see sights include the salt water lake where flamingoes breed, the wolf park, and the magnificent towns of Granada and Cordoba. Antequera's medieval heart and the many beautiful churches and museums are well worth exploring. With a superb range of shops and a weekly market, a lively nightlife, and restaurants catering for all tastes, our Antequera holiday offers are sure to please.
For further details and to view our best Antequera holiday deals, please use the search facility.