Puerto Banus Holidays
Puerto Banus Holiday Deals
| Date | All Inclusive | Half Board | Self Cat. | Full Board | B&B | Room Only |
| --- | --- | --- | --- | --- | --- | --- |
| Nov 2023 | - | €606 | - | - | €453 | - |
| Dec 2023 | - | €405 | - | - | €302 | - |
| Jan 2024 | - | €428 | - | - | €319 | - |
| Feb 2024 | - | €430 | - | - | €320 | - |
| Mar 2024 | - | €301 | - | - | €271 | - |
| Apr 2024 | - | €338 | - | - | €308 | - |
| May 2024 | - | €402 | - | - | €372 | - |
| Jun 2024 | - | €453 | - | - | €423 | - |
| Jul 2024 | - | - | - | - | - | - |
| Aug 2024 | - | - | - | - | - | - |
| Sep 2024 | - | - | - | - | - | - |
| Oct 2024 | - | - | - | - | - | - |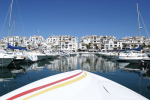 Puerto Banus holidays transport you to a rather superior resort a few miles from Marbella on Spain's Costa del Sol. The resort is centred round a vast marina with berths to accommodate the luxury yachts of the rich and famous. Holidays to Puerto Banus can be taken at any time of year as the summers are long and hot and the winters are mild. The busiest months are from April until October with temperatures rising to the low thirties at the height of the season. Holidays in Puerto Banus are widely popular as they have something to offer everyone. Families enjoy the sandy beach with water sports for the more active; golfers have a choice of excellent courses in the area; young adults are drawn by the lively nightlife. Anyone with an interest in boats will find the marina fascinating and ardent shoppers will have the time of their lives.
Cheap Holidays To Puerto Banus
We have a number of cheap Puerto Banus holidays that are considered great value as our commitment to quality and service is never compromised. The high standard of accommodation and the superb restaurants ensure that our low cost Puerto Banus holidays are an excellent deal. The large number of boutiques by the marina is supplemented by Marbella's Golden Mile which is a shopaholic's dream. There is nightlife to suit every mood and taste, from party to romantic. Our Puerto Banus holiday offers can be as relaxing or as active as you wish as there are a range recreational activities as well as many sightseeing opportunities.
For further information and to view our best Puerto Banus holiday deals, please use the search facility.