Puerto De La Duquesa Holidays
Puerto De La Duquesa Holiday Deals
Sorry, we have no offers to display for this destination.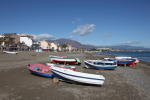 Puerto de la Duquesa holidays take you to a beautiful area of Spain's Costa del Sol, close to Gibraltar. Framed by mountains and with miles of sandy beaches, holidays to Puerto de la Duquesa offer relaxation in a very pleasant resort that retains its traditional atmosphere. With long, hot summers and mild winters, holidays in Puerto de la Duquesa can be enjoyed at any time of year. Although April to October are the busiest months with the mercury rising to the low thirties at the height of the season, golfers often favour the winter months when they can play in pleasant temperatures.
Cheap Holidays To Puerto De La Duquesa
Our cheap Puerto de la Duquesa holidays offer great value as our commitment to quality and service is never compromised. With good accommodation and restaurants catering for all tastes, our low cost Puerto de la Duquesa holidays are sure to please. They have wide appeal as there are stunning beaches with safe bathing for families, wilder beaches offering a variety of water sports for those with excess energy, a fantastic championship course for golfers, and many sightseeing opportunities including of course Gibraltar. As you can see, our Puerto de la Duquesa holiday offers can be as active or as relaxed as you wish. The choice is yours. Although shopping here is fairly limited, there are evening craft markets where you can purchase your gifts and souvenirs. If a wider variety of goods is needed, take a bus to neighbouring Marbella with its famous Golden Mile filled with boutiques and specialist shops.
For further information and to view our best Puerto de la Duquesa holiday deals, please use the search facility.